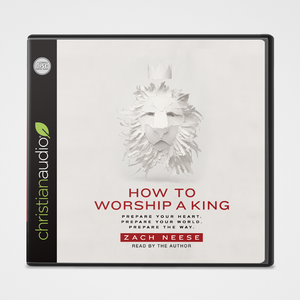 How to Worship a King Audiobook
Product Details
Featured Review
I believe How to Worship a King has the potential to completely revolutionize your life—not just in the area of worship but in every area of your life. I know from personal experience that Zach really does live what is written in this book.
Robert Morris
Prepare your heart. Prepare your world. Prepare the way.
Zach Neese unveils the power and beauty of true worship beyond any known song or melody, and carefully builds understanding and compelling evidence into the intended purpose of worship as a powerful weapon designed by God for the advancement and building of His Kingdom, here on earth.
Read by the author!
---
Embark on this amazing journey of understanding, and be changed by the revelation gained as you allow your mind to see what only your heart has had the capacity to understand: that the power of worship has been deliberately given to change your relationship with God and to affect the way you live your life as a true worshipper and high priest.
About the Author:
Zach Neese is a worship pastor at Gateway Church where he oversees all areas of worship development including discipleship and worship training classes. Zach believes there is a difference between "leading worship" and pastoring people in the presence of God, and his leadership reflects his passion for helping people develop vibrant, transformational relationships with Jesus.
---
Related Resources