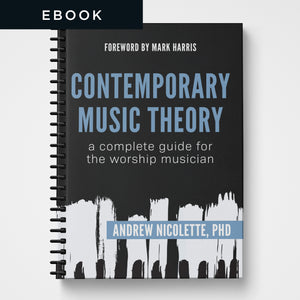 Contemporary Music Theory eBook
Product Details
eBook PDF download only. Click here for the physical book.
A Complete Guide for the Worship Musician.
WORSHIP MUSICIANS ARE STEWARDS OF A SPECIAL, GOD-GIVEN GIFT.
Understanding music theory will help you become a better steward of your gifts. It will also help you lead people into God's presence more effectively and skillfully through musical worship.
Using relevant terminology, this book contains everything a worship musician needs to know concerning classically-based music theory. It also teaches the music notation and technical concepts unique to worship music today.
Perfect for the college classroom or church worship team training, readers will learn how to:
• Read music
• Become better musicians and worship leaders
• Speak a common language with other worship musicians
• Acquire a deeper appreciation for the mechanics and structure of music
Includes Index of Terms.
Dr. Andrew Nicolette is an Assistant Professor of Music and Worship Studies at The King's University, a partner of Gateway Church in the Dallas/Fort Worth Metroplex. He earned a PhD in music theory from Louisiana State University and has been involved in higher education for the past decade. Andrew is passionate about equipping and empowering people to serve in worship ministry in the local body of Christ.
---
Related Resources