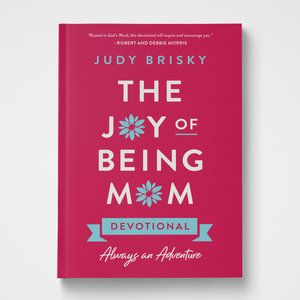 The Joy of Being Mom Devotional
Product Details
You can walk with God through the journey of motherhood.

You are a mother of children, but you are also a child of God. From birth to adulthood, whether your children are little or grown, you are always growing. Judy Brisky invites you to join her as she dives into the heart of motherhood and finds inspiration from God's Word. She shares how to:
Deepen your relationship with the Lord
Build a strong foundation for your family
Appreciate the little things
Balance motherhood with other relationships
Stay strong through adversity
Treasure your legacy

These brief, inspiring devotionals are easy to complete in your busy day. Over the next 60 days, your heart will be blessed as you grow in your relationship with the Lord and your family.

This devotional is Judy's second book. Her first, The Joy of Being Mom: Embrace the Adventure, was released in 2020.

Judy Brisky reminds all of us that there are no perfect moms. Even so, God can give us peace and joy in our lives as mothers. And He can do it for your life! Judy frequently teaches marriage and parenting classes with her husband, Mike, at Gateway Church in the Dallas/Fort Worth Metroplex. She is passionate about helping moms find hope, strength, and restoration through Jesus Christ.
---
Related Resources