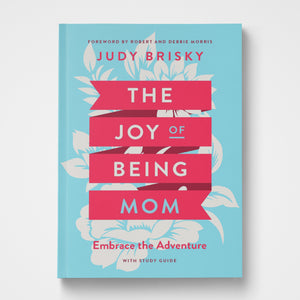 Product Details
Featured Review
I am so thankful that my friend, Judy Brisky, took the time to write this message to mothers. Moms are heroes! I know this book will strengthen and encourage moms everywhere. —Lisa Bevere
Yes, you can have joy and be a mom at the very same time.
You know all about crying babies, dirty diapers, toddler tantrums, potty training, school assignments, and the list goes on and on. Ahhh, Motherhood! But wait, there's more!
Judy Brisky wants you to know that despite any of these demanding situations, even in the toughest of seasons, you can experience the joy of being a mom every single day. But first you will need help and wisdom that can only come from the Lord. Then you will find that being a mom is one of the most joyful experiences you will ever have. Yes, you'll get tired and you'll feel pressures, but you'll also be filled with joy!
Judy offers the encouragement you need to face common challenges and offers practical solutions from the Bible. She shares from her own relatable experiences, mostly good, but also not so great. Even more, she will bring you hope and motivation to:
Cherish each season

Deposit intentional investments of love

Make every word count

Leave a lasting legacy
Judy Brisky reminds all of us that there are no perfect moms. Even so, God can give us peace and joy in our lives as mothers. And He can do it for your life! Judy frequently teaches marriage and parenting classes with her husband, Mike, at Gateway Church in the Dallas/Fort Worth Metroplex. She is passionate about helping moms find hope, strength, and restoration through Jesus Christ.
---
Related Resources