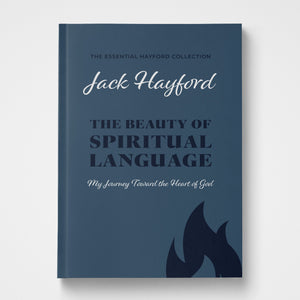 The Beauty of Spiritual Language — The Essential Hayford Collection (Hardcover)
Product Details
The journey toward God's heart can take you to unexpected places.
Some people may be unfamiliar with what a spiritual language is, while others may think it's strange or irrelevant. With gracious understanding of the stigmas of speaking in tongues, Pastor Jack Hayford presents a fresh and honest conversation about one of the most controversial gifts of the Holy Spirit. He invites you to forgo fear and doubt as you closely examine Scripture with an open mind. As a bridge-builder, he eliminates emotionalism, reaches across denominational lines, and encourages you to simply seek God's face.
Theologian, best-selling author, and much-loved pastor to many, Pastor Jack's balanced approach to this Holy Spirit gift has changed the lives of thousands. His wisdom and insight have inspired believers of all generations to discover the joyous, inexhaustible well of God's fullness.
If you've ever questioned speaking in tongues or wanted to discover how to engage in this beautiful gift, this book is one of the most comprehensive and endearing works you'll ever read.
Begin your own journey toward the heart of God today!
Pastor Jack Hayford has written or collaborated on over 100 books and composed over 600 songs, including the internationally acclaimed hymn, "Majesty." He is the founding pastor of The Church On The Way in Van Nuys, California, where he served as the senior pastor for more than three decades. Pastor Jack also served as the Chancellor Emeritus of The King's University and an apostolic elder at Gateway Church in Dallas-Fort Worth, Texas.
---
Related Resources