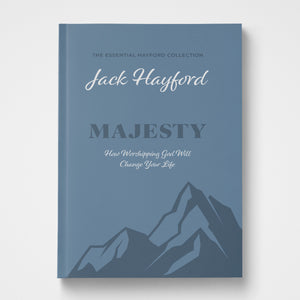 Majesty — The Essential Hayford Collection (Hardcover)
Product Details
Featured Review
The best book on worship I have ever read. It was required reading for all my students.
Dr. Elmer Towns
God is the focus of our praise, but the incredible benefits are ours!
Majesty is a must-read for believers of every generation who desire to discover God's generous heart and experience worship as He originally intended it to be!
When the cares of the world threaten to overwhelm you, a moment in worship can shift your perspective, restore your peace, and refresh your soul. His presence fulfills our spiritual needs like nothing else can, and as we recognize and acknowledge God's holiness, we discover genuine wholeness. Worship was never intended to be something you only do at church. It's meant to be lived out every day of your life—in every setting, situation, circumstance, and season.
In this special collector's edition of his treasured book, highly esteemed songwriter, author, theologian, and pastor Jack Hayford brings timeless wisdom and truth to modern-day conversations about worship. Drawing from the transformative stories of King David, Samuel, and others, Pastor Jack shares about the power and life-changing blessings that come to us when we step into God's presence in worship.
Pastor Jack Hayford has written or collaborated on over 100 books and composed over 600 songs, including the internationally acclaimed hymn, "Majesty." He is the founding pastor of The Church On The Way in Van Nuys, California, where he served as the senior pastor for more than three decades. Pastor Jack also served as the Chancellor Emeritus of The King's University and an apostolic elder at Gateway Church in Dallas-Fort Worth, Texas.
---
Related Resources