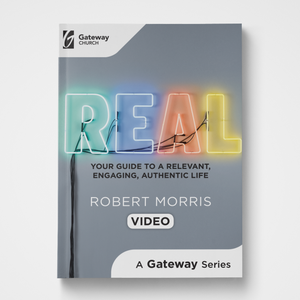 Product Details
Sample Quote
You can't catch fish if you don't put your bait in the water
Robert Morris
This DVD is a companion to the REAL Study Guide and is designed for group study or individual reflection. 
---
Includes 4 sessions.
Christians overcomplicate witnessing. It's simpler than you think.
People often feel ill-equipped to share their faith. They either don't know how to start the conversation, or they don't want to appear pushy. They fear failure, so they just leave it up to the pastor to share the gospel on the weekends.
Through the messages, Robert Morris teaches believers how to share their stories with confidence and become REAL witnesses.
Robert Morris is the lead senior pastor of Gateway Church in the Dallas/Fort Worth Metroplex. He believes every Christian has a life-story that can impact the kingdom of God. Robert is the author of numerous best-selling books, including The Blessed Life and Beyond Blessed.
---
Related Resources