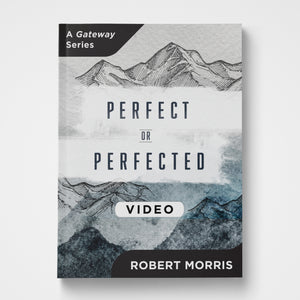 Product Details
Perfection isn't up to us.
We often obsess over everything in life being perfect. And when everything isn't perfect, we feel stress, worry, doubt, and failure start to creep in. But what if the things we are working so hard to fix on our own are things we need to give to God?
In this series, Pastor Robert challenges our perspective on perfection and shares how finding peace, joy, and growth depend on hearing, believing, and obeying God. Pastor Robert offers biblical and practical ways to shift our focus from trying to be perfect to letting God perfect us as we walk closely with Him.
This DVD is a companion to the study guide and is designed for group study or individual reflection.
Perfect peace is better than a perfect life.
Robert Morris is the senior pastor of Gateway Church in the Dallas/Fort Worth Metroplex. His desire is to encourage people to find joy in their relationships with God. Robert is the author of numerous best-selling books, including The Blessed Life and Take the Day Off.
---
Related Resources