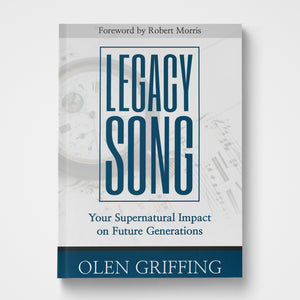 Product Details
Featured Review
My regard for Pastor Olen Griffing runs deep. As you read and discover his wisdom, as you laugh along with his stories, and after you've caught something of the true grit that makes great shepherds as he exemplifies, I think you'll share my regard.
Jack Hayford
Your Supernatural Impact on Future Generations
In Legacy Song, people will find a road-map to leaving a lasting eternal legacy. A person's legacy can be measured as timeless parts of themselves being passed on to others—leaving hope for the future. 
---
Sometimes, without our conscious knowledge, the integrity of our lives spills over into the lives of individuals we meet. But those who we intentionally spend our lives with are our true legacy and remain long after we are passed from this earthly life. Our personal legacy is not to be found in the things we leave behind or the monuments that are built to our memory, but like all great symphonic works, our lives are touching all those to whom we are connected and form a song of praise to God. 
About the Author:
For many years, Olen has taught people how to engage in the song of The Lord in worship gatherings, as well as the wonder and majesty of the song of the Lord. This book brings the metaphor of a song and a person's legacy together to help people to leave a song that honors the Kingdom and lives on when their time on earth is complete.
---
Related Resources