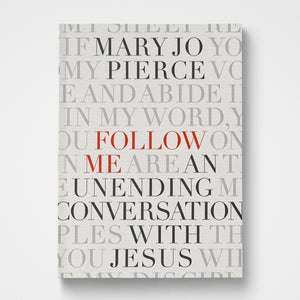 Product Details
Featured Review
No one prays the Scriptures with zeal and diligence like my friend Mary Jo. This book is an invitation to a divine conversation that will change your life and connect you to God in a profound way.
Brady Boyd
An Unending Conversation with Jesus
Mary Jo Pierce takes a journey through the book of John. Pages with colorful ink illustrate the dialogue she had with Jesus through this experience and will inspire you to start your own conversation.
---
Jesus wants to talk directly with YOU. Right now. Wherever you are. The red-letter words in the book of John are an invitation to start the conversation. Be open and trust Jesus with the real you. Release your burdens and problems. Experience an intimate encounter with Him. Discover that Scripture is personal and relevant. Fall in love with Jesus all over again (or for the first time).
About the Author:
Mary Jo Pierce has been teaching, equipping, mentoring and leading prayer for over 42 years. Her authentic, pure-hearted core belief that God created us to pray; to relate and partner with Him, has taken her from her prayer chair to nations. She uses every tool available, from writing to photography and even baking bread to draw people into an authentic hearing and listening prayer relationship with God. For the last 14 years she has served as pastor or prayer and intercession at Gateway Church. Mary Jo's also written Adventures in Prayer: A 40-Day Journey has inspired and unlocked the pure joy of living prayer for thousands.
Includes hand drawn calligraphy art by the author and an authentic challah bread recipe.
---
Related Resources