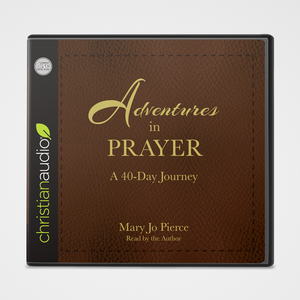 Adventures in Prayer Audiobook
Product Details
Featured Review
The best books, by far, are those through which elements of the life, character, and anointing of the writer are somehow transferred to the reader. Impartation and revelation trump information alone—every time. Read Adventures in Prayer and learn from the best!
Dutch Sheets
A 40-Day Devotional
Praying isn't just talking—it's also listening, watching, and expecting. Travel with Mary Jo on her adventures as she finds God in ordinary places. Learn in 40 days what she learned in her first 40 years of walking with God.
Read by the author!
---
Each day of this devotional has a simple but inspiring personal story. Elements of Mary Jo's journey, character, and anointing will transform your prayer life. Learn how to:
Set aside a special place to meet with God
See God's fingerprints in every story of your life
Develop a prayer habit of listening to God
Respond to God's message to you
About the Author:
Mary Jo Pierce believes that prayer encompasses the whole of why we were created—to partner with God to bring heaven to earth. She has studied under both Dutch Sheets and Mike Bickle. Mary Jo says, "Why do I love prayer? Because it works!" In 2004, she became the first pastor of prayer and intercession at Gateway Church in Dallas/Fort Worth, Texas. She continues to serve in this role and regularly travels and teaches about prayer.
---
Related Resources