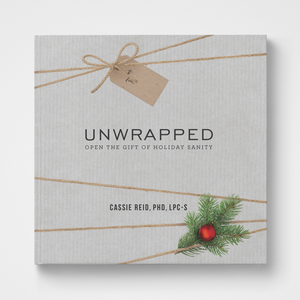 Product Details
Featured Review
The Christmas season can be difficult to navigate and isn't always the joy-filled celebration it's made out to be. In this must-read book, Dr. Cassie Reid shares practical ways to overcome past hurts, family baggage, negative emotions, and many other dynamics in order to bring peace and fun back into the holidays.
Jimmy Evans
Open the Gift of Holiday Sanity
The holidays are the most wonderful time of the year, unless you are tangled in family drama. Dr. Cassie Reid shares 25 secrets to navigating the holidays with grace and composure, no matter what your family may be like.
---
What lies beneath the shiny ribbon and glittery paper?
Do you dread facing your relatives at parties and dinners? You struggle between mustering the courage to attend and retreating home to avoid negative emotions. But you have another choice.
In Unwrapped, you will discover practical tools to:
Manage Expectations
Diffuse Conflict
Reduce Stress
Find Comfort and Joy
About the Author:
Dr. Cassie Reid, PHD, LPC-S, is the director of the Master of Marriage & Family Therapy graduate degree program at The King's University as well as the founder and director of Cassie Reid Counseling. She received her PhD in Marriage and Family Therapy from Texas Woman's University in Denton, TX. Dr. Reid and her husband, James, serve at Gateway Church in the Dallas/Fort Worth Metroplex. One of their greatest joys is parenting their two daughters, Londi and Emerson.
---
Related Resources