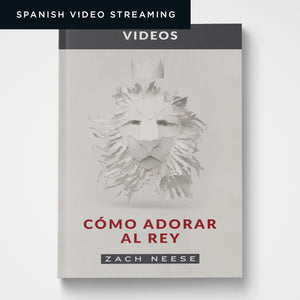 (Hidden) Spanish How to Worship a King Video Series (Streaming)
Product Details
Cómo adorar al rey videos con subtítulos en español.
This version of the How to Worship a King Video Series includes Spanish open captions.
Purchasing this product gives you access to stream the sessions online. If you wish to download the videos instead, visit this page.
En este video currículum, el pastor Zach Neese, lider de adoración y compositor de numerosas queridas canciones de adoración le brinda un mensaje alentador para que por medio de una hoja de ruta blíblica práctica lo guíe en su viaje hacia una adoración genuina y de experiencia transformadora.
We were born for deep, meaningful intimacy with our Father-King. 
As priests, our purpose is to minister to God through worship and then carry His light and glory to a dark, hurting world. This is the most extraordinary privilege ever extended to flesh and blood. So why do many believers miss out on the joy and transformation that come from stepping into their priestly roles?
In this digital video series, Pastor Zach Neese shares powerful biblical truths and practical encouragement to help believers deepen their understanding of and passion for worship. He also offers time-tested wisdom for pastors and worship pastors. 
Zach Neese is a pastor at Gateway Church where he has faithfully led worship and taught on the theology and heart of worship for many years. His passion is to help people develop vibrant, transformational relationships with Jesus. Zach is an author, songwriter, and international conference speaker.
Sesión 1: Soy un Sacerdote
Sesión 2: ¿Qué es adorar?
Sesión 3: ¿Qué es alabar?
Sesión 4: La Familia de Dios, La Casa de Dios
Sesión 5: Intimidad con Dios
Sesión 6: El Trono de Dios
Sesión 7: Líderes de Adoración
Sesión 8: Pastores


Preview Session 1 with Spanish open captions:

---
Related Resources
No related products found.