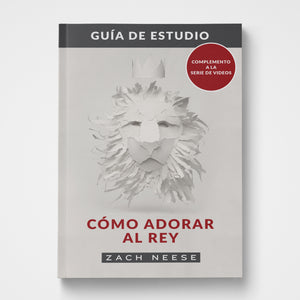 Spanish How to Worship a King Study Guide
Product Details
GUÍA DE ESTUDIO DE CÓMO ADORAR AL REY (COMPLEMENTO A LA SERIE DE VIDEOS)

NACEMOS PARA UNA INTIMIDAD PROFUNDA Y SIGNIFICATIVA CON NUESTRO PADRE-REY.
Como sacerdotes, nuestro propósito es ministrar a Dios a través de la adoración y luego llevar Su luz y gloria a un mundo oscuro y herido. Este es el privilegio más extraordinario jamás otorgado a alguien de carne y hueso. Entonces, ¿por qué muchos creyentes se pierden el gozo y la transformación que provienen de asumir sus roles sacerdotales?
En esta serie, el pastor Zach Neese enseña poderosas verdades bíblicas y estímulo práctico para ayudar a los creyentes a profundizar su comprensión y pasión por la adoración. También ofrece sabiduría probada por el tiempo para pastores y ministros de adoración.
We were born for deep, meaningful intimacy with our Father-King. 
As priests, our purpose is to minister to God through worship and then carry His light and glory to a dark, hurting world. This is the most extraordinary privilege ever extended to flesh and blood. So why do many believers miss out on the joy and transformation that come from stepping into their priestly roles?
In this series, Pastor Zach Neese shares powerful biblical truths and practical encouragement to help believers deepen their understanding of and passion for worship. He also offers time-tested wisdom for pastors and worship pastors. 
Zach Neese is a pastor at Gateway Church where he has faithfully led worship and taught on the theology and heart of worship for many years. His passion is to help people develop vibrant, transformational relationships with Jesus. Zach is an author, songwriter, and international conference speaker.
Esta guía de estudio es un complemento de la serie de videos. Acceda a los videos digitales aquí.
---
Related Resources