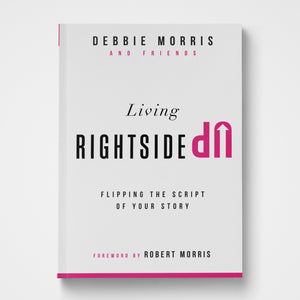 Product Details
Featured Review
Living Rightside Up is not just another how-to book. In each chapter, God's truths shine through so clearly and vividly that I believe you'll be challenged, encouraged, and inspired to seek out His will for your life as your story unfolds each day.
Robert Morris
Flipping the Script of Your Story
You don't have to live out the story that others are writing for you. Living Rightside Up strips away the lies you may have bought into and challenges you to start seeing yourself the way God sees you.
---
It is never too late to live as the courageous, free, confident, and unique daughter of God He designed you to be!
 
This book will show you practical ways to:
 
Overcome the comparison trap
Become a passionate leader
Face your fears head-on
Successfully resolve conflict
Rise above adversities
And so much more!
 
It's time to shut down the voices. It's time to start swimming against the current. It's time to flip the script. It's time to start living life rightside up.
---
Related Resources