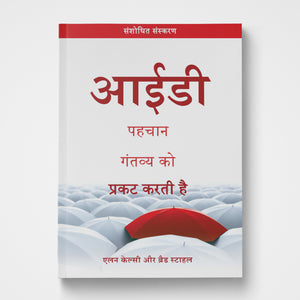 ID Identity Reveals Destiny Hindi
Product Details
Sample Quote
ID will help you identify the unique vision God has for your life. We want to encourage you and give you the tools you need to achieve God's mission as you follow His vision.
Kelsey & Stahl
ID Identity Reveals Destiny by Allan Kelsey & Brad Stahl in Hindi (eBook only).
---
You can know your purpose on this earth. God has called you to something more, but you don't know what it is, what it looks like, or what to do about it. Past attempts at following a dream have left you frustrated and insecure. Now you're standing on the sidelines watching your life go by.
This book will guide you to:
Make peace with your past
Learn to identify and use your talents and strengths
Discover your life mission
Have confidence to take the next step toward God's destiny for your life
About the Authors:
Allan Kelsey has spent his career in business developing people. He believes people are essential to significant achievements. Allan has been on staff at Gateway Church since 2010 and currently serves as the executive senior pastor of Human Resources and Strategic Planning. 
Brad Stahl has over 28 years of ministry experience in varied capacities. His constant desire has been to recruit, train, and release teams of people to do ministry and find their places of service in the body of Christ. Brad is the executive pastor of Staff Development and SERVE at Gateway Church. 
---
Related Resources