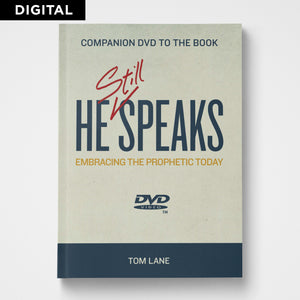 He Still Speaks Video Series (Digital)
Product Details
Purchasing this product will allow you to stream or download the sessions. (Not a physical product). Find the DVD here. 
This video series contains 6 sessions and is a companion to the books He Still Speaks and He Still Speaks Study Guide. 
Tom Lane lays a solid biblical foundation for the role of prophecy in the church today. Using scripture and stories, he systematically deals with questions and objections and shows why we should all embrace prophetic ministry today.
When it comes to hearing a word from God, many people are nervous and fearful.  It's easy to see why so many are so leery of anything related to prophecy. There is perhaps no ministry in the church with more glaring examples of excess and counterfeit expressions than in this area.  The truth is God still speaks, and the role of prophetic ministry is as vital today as it has ever been in the church—it is real, useful and very much needed. When prophetic ministry is recognized and embraced by the church in a healthy way, its impact on individuals and influence on the work of the church is powerful!
TOM LANE is the Executive Pastor of the Tom Lane Executive Leadership Institute at Gateway Church in the Dallas-Fort Worth Metroplex. As an elder, he provides spiritual governance for Gateway's ministries. As a pastor to pastors, Tom is a long-standing, trusted Christian leader. Tom has written many books including Heritage: A Father's Influence to the Generations, Foundations of Healthy Church Government, and He Still Speaks to Kids.
Watch a preview clip:
---
Related Resources