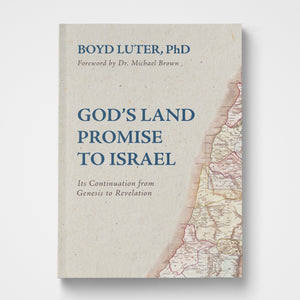 God's Land Promise to Israel
Product Details
God made a promise to Abraham that included not only descendants and a blessing but also physical land.
So why is there such a history of turmoil over the Jewish homeland?
In this book Boyd Luter offers a scholarly exploration of the following questions:
What are the conditions of God's promise to His chosen people?
Why should Gentile believers be concerned with how Jewish history affects the future?
What is the deeper meaning of the language structure of Scripture, considering its oral origins?
How does Scripture give witness to God's ongoing commitment to the people of Israel in relationship to the lands of the patriarchs?
God's promise is an extension of Himself—eternal and unchanging—and He is faithful to fulfill His divine intent (even if we can't see it yet).
Boyd Luter (PhD, Dallas Theological Seminary) is Professor of Biblical Studies at The King's University, Southlake, TX. He has twice served as a regional President of the Evangelical Theological Society. Boyd is the author or coauthor of nine previous books, as well as many journal articles, essays, book chapters, Bible dictionary entries, and segments in nine study Bible projects.
---
Related Resources