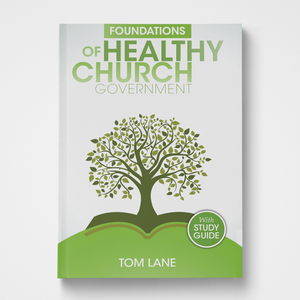 Foundations of Healthy Church Government
Product Details
Featured Review
So much of what I know and practice as a senior pastor and elder at my church, I learned from Tom Lane. He has amazing wisdom and insight into this very vital area of church life. Every pastor, volunteer, and leader need this book.
Brady Boyd
The government model you choose will determine your church's destiny. Some churches foster an environment of harmony, stability, and leaders who feel energized. Other churches are plagued by disunity, conflict, lack of growth, and leaders who feel alone and overwhelmed. How do you ensure your church is on a path to fruitful ministry?
---
Tom Lane is one of the foremost authorities on church government. He has more than 30 years as a ministry leader and a foundational guide at both Trinity Fellowship Church in Amarillo, Texas and Gateway Church in Dallas/Ft. Worth, Texas. Ministries across America have relied on Tom's wisdom and experience as a board member or governing elder. He teaches with a warm relational style and an unwavering moral authority. Foundations of Healthy Church Government will help you:
Develop an enduring, biblical model of governance for your church.
Replace time-wasting and internal strife with harmony and accountability.
Avoid power struggles among leadership before they start.
Reignite church growth and membership.
Move your church staff and vision from confusion to unity.
Turn a potential battleground into fertile ground for ministry.
---
Related Resources