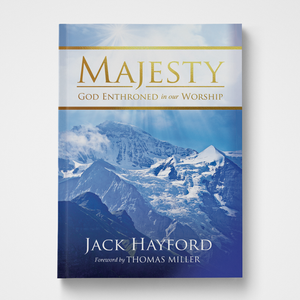 Product Details
Featured Review
The best book on worship I have ever read. It was required reading for all my students.
Dr. Elmer Towns
God Enthroned in Our Worship
In this new revised version of his classic bestseller Worship His Majesty, Pastor Jack shows us the blessings of praise and how God's grace fills everything He gives and calls us to do. When your worship enthrones His majesty, His grace will flood you with spiritual enrichment.
---
The Father doesn't need our praise. So why does He prescribe worship as a daily activity?
God graces His people with worship as a gift. When we enter His presence, worship fulfi lls our spiritual needs as nothing else can. We recognize and acknowledge God's holiness and are liberated to discover genuine wholeness.
About the Author:
Pastor Jack Hayford has written or collaborated on over 100 books and composed over 500 songs, including the internationally acclaimed hymn, "Majesty." He is the founding pastor of The Church On The Way in Van Nuys, California, where he served as the senior pastor for more than three decades. He also served as President of the International Church of the Foursquare Gospel. Pastor Jack is currently the Chancellor Emeritus of The King's University and an apostolic elder at Gateway Church in the Dallas/Fort Worth Metroplex.
---
Related Resources