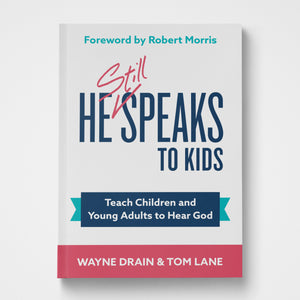 Product Details
One Word from God can change everything.

As a parent, grandparent, or pastor, you want the children, teens, and young adults in your life to know God, but maybe you're unsure how to help that relationship grow. You believe God still speaks today, but you want to know, How do I teach someone to hear His voice?
Through decades of prophetic ministry, Pastors Wayne Drain and Tom Lane have learned an incredible truth: God has something to say to everyone. In this book designed for parents and anyone with a heart for the next generation, you will learn how to:
Dedicate your kids to God
Lead your kids to Jesus
Develop environments for hearing God
There is no age requirement to hear God.
About the Authors
Wayne Drain and Tom Lane are passionate about creating a lasting legacy of faith in the next generation. They each have more than 40 years of pastoral experience. They are the co-authors of He Still Speaks: Embracing the Prophetic Today.
---
Related Resources