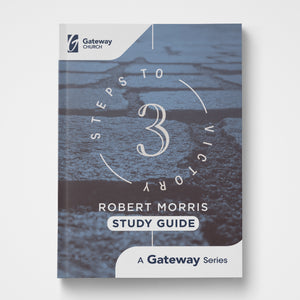 3 Steps to Victory Study Guide
Product Details
This study guide is a companion to the 3 Steps to Victory DVD and is designed for group study or individual reflection. 
---
Includes 3 sessions.
Lasting victory is only three steps away.
Do you struggle spiritually, physically, professionally, or in your closest relationships? We all want success in every area of life. Here is the good news: if you are a follower of Jesus, He has already given you a way to overcome these struggles.
In this three-part study designed for individual reflection or group experience, Pastor Robert Morris shares how to achieve personal victory. He explains the importance of:

Aligning your words and thoughts with God's Word
Allowing the Bible to transform your mind, will, and emotions
Experiencing God's presence and power with other believers
This study will challenge you, inspire you, and give you the practical steps to become more than a conqueror!
ROBERT MORRIS is the senior pastor of Gateway Church in the Dallas/Fort Worth Metroplex. He desires for everyone to find strength and joy in their relationship with Christ. Robert is the author of numerous best-selling books, including The Blessed Life.

---
Related Resources