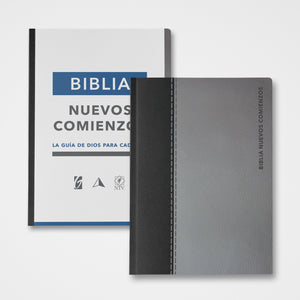 Spanish Fresh Start Bible (Imitation Leather)
$20.00

$20.00

Save $29.99
---
---
Product Details
Biblia nuevos comienzos: La guía de Dios para cada día (imitación piel)
Want to buy Fresh Start Bible by the case? Call 855.712.5774 for bulk discounts.

freshstartbible.com
Imitation leather edition (imitación piel) comes in two-tone imitation leather with silver page edges and white ribbon marker.


¿Quieres saber más sobre la fe cristiana?
¿Acabas de convertirte en seguidor de Cristo?
¿Has sido creyente durante mucho tiempo?
Puedes tener un nuevo comienzo, a partir de hoy.
Todos necesitan ayuda para navegar por la vida. Los pastores Robert Morris, Jack Hayford y otros líderes importantes responden preguntas comunes y brindan las herramientas para construir una base espiritual sólida. Con más de 500 artículos y estudios de discipulado, La Biblia nuevos comienzos te ayudará a encontrar la guía de Dios para cada día.
Las características de esta Biblia incluyen:
Viaje nuevos comienzos: 52 preguntas importantes sobre los fundamentos de la fe
Intersecciones: 59 personajes y eventos bíblicos clave
Señales de tráfico: Enseñanzas prácticas que iluminan las Escrituras e inspiran el crecimiento espiritual
Camino de adoración: Analiza el qué, a quién, por qué y cómo de la adoración
Camino de la libertad: Explora la libertad espiritual disponible para cada creyente
Progreso de la lectura de la Biblia: Explica la importancia de leer la Palabra de Dios todos los días.
Guía para líderes de grupos pequeños
Presentaciones de libros bíblicos
Artículos culturales e históricos
Listas de pasajes bíblicos
Gráficos, tablas y 18 mapas a todo color
Página de presentación 

La Nueva Traducción Viviente, NTV y el logotipo de la Nueva Traducción Viviente son marcas comerciales registradas de Tyndale House Publishers, Inc.
https://www.tyndale.com/ntv  
---
Related Resources
No related products found.