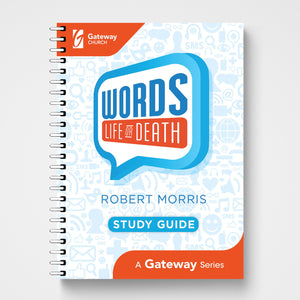 Words: Life or Death Study Guide
Product Details
Sample Quote
Our quality of life is dependent on our words because our words determine how we connect with God and others.
Robert Morris
This study guide is a companion to the Words: Life or Death DVD and is designed for group discussion and personal reflection.
---
Includes 7 sessions and a leader's guide.
Only God can tame the tongue, but we have the responsibility to bridle it.
Does your mouth get you into trouble? The tongue is powerful and humanly untamable. We often misuse this power to lie, curse, slander, or gossip. Negative or careless words open the door to the enemy and leave a trail of hurt.
The good news is words can also be cleansing and encouraging. When used with honor, they can connect us with God and one another. These sessions will teach you how to: 
Examine the intentions of your heart
Allow the Holy Spirit to guide what you say
Speak words that bring healing and forgiveness
Develop a strong, trustworthy character
About the Author:
Robert Morris is the lead senior pastor of Gateway Church in the Dallas/Fort Worth Metroplex. He has a heart to teach people to use their words to speak life and glorify God. Robert is the author of numerous best selling books, including The Blessed Life.
---
Related Resources