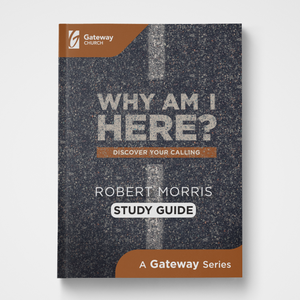 Why Am I Here? Study Guide
Product Details
Sample Quote
The power to do comes from the power to be.
Robert Morris
This study guide is a companion to the Why Am I Here? DVD and is designed for group study or individual reflection. 
---
Includes 3 sessions and a leader's guide.
No one can derail your destiny but you.
Every person has a God-given purpose. How do you know what yours is, and how do you begin to pursue it? Robert Morris illuminates the answers to these common questions:
• What am I supposed to do with my life?
• What is my purpose on earth?
• Why am I even here?
Robert Morris is the lead senior pastor of Gateway Church in the Dallas/Fort Worth Metroplex. He is dedicated to helping believers discover their callings. Robert is the author of numerous best-selling books, including The Blessed Life and Beyond Blessed.
---
Related Resources