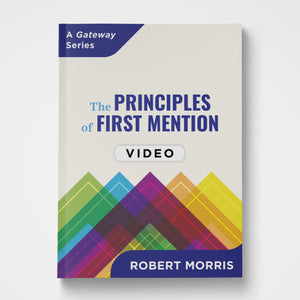 The Principles of First Mention DVD
Product Details
You always remember your firsts:
Your first date
Your first job
Your baby's first word
The reason we remember our firsts is because they're significant. They're the beginning of what is to come, and each one has the potential to develop and grow into something more.
In this series, Pastor Robert teaches that the first time a word or phrase appears in Scripture is important. The first mention often establishes a precedent, pattern, or biblical concept that occurs throughout the rest of the Bible. As Pastor Robert unpacks the principles of first mention, God's Word will come alive with new insights and understanding.
This DVD is a companion to the study guide and is designed for group study or individual reflection.
Read your Bible with new enthusiasm as you discover the first mentions.
Robert Morris is the senior pastor of Gateway Church in the Dallas/Fort Worth Metroplex. He is passionate about inspiring people to develop a love for God's Word. Robert is the author of numerous best-selling books, including The Blessed Life and Take the Day Off.
---
Related Resources