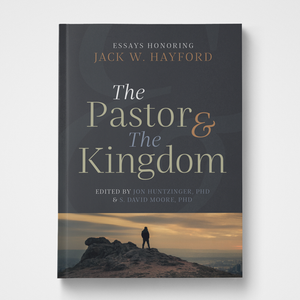 Product Details
Sample Quote
Jack Williams Hayford, Jr. is arguably the most respected Pentecostal pastor/leader of his generation. His sane, sensible, and scriptural appeal for Spirit-filled living has garnered him a wide audience across the spectrum of contemporary Christianity.
Huntzinger & Moore
Essays Honoring Jack W. Hayford
In celebration of the life and ministry of Jack Hayford at the 20th anniversary of the founding of The King's University, The Pastor and The Kingdom offers essays by distinguished scholars, educators, and practitioners across the broad spectrum of the Christian tradition. These essays honor the man known as "Pastor Jack" by tens of thousands of people. 
---
Jack Hayford has long viewed his ministry as belonging to the Lord Jesus Christ, refracted in and through Him by the Holy Spirit, and expressing the will and rule of God the Father. God's rule—or kingdom—is manifested in Jack Hayford's life as he has submitted and lived in the presence of Jesus Christ. How does Jack Hayford talk about God's kingdom? He tells of God's Spirit and the free worship of God's people before Him. Jack Hayford talks about peacemaking, reconciliation, and the "One New Man" described by the Apostle Paul. He speaks of calling, empowerment, and the release to serve without discrimination. And he teaches about discernment, courage, and engagement with culture in the future-present time in which we live. The essays presented in this book resonate with those themes. 
Contributors include: VELI-MATTI KÄRKKÄINEN, FRANK D. MACCHIA, RICHARD MOUW, LLOYD JOHN OGILVIE, CECIL (MEL) ROBECK, VINSON SYNAN, AMOS YONG
Includes Scripture and Name indices.
---
Related Resources