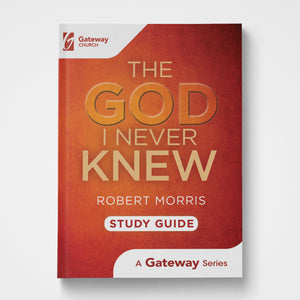 The God I Never Knew Study Guide
Product Details
Sample Quote
The Holy Spirit is the most misunderstood person in the Trinity. Knowing who He is and what His presence offers is vital to developing a powerful and fruitful relationship with God
Robert Morris
This study guide is a companion to The God I Never Knew DVD and is designed for group study or individual reflection.
---
Includes six sessions and a leader's guide.
You have someone living inside you who knows everything.
The Holy Spirit can be misinterpreted as confusing, controversial, and weird. People often see the Holy Spirit as an "it" and don't believe Him to be a person who can be understood and welcomed. The Holy Spirit wants to have a relationship with you. He has committed Himself to be your teacher, comforter, and guide.
These sessions will help you to:
Recognize the Holy Spirit as a person
Develop a connection with Him
Embrace His power to walk in a new life
About the Author:
Robert Morris is the lead senior pastor of Gateway Church in the Dallas/Fort Worth Metroplex. He has a heart to teach people to use their words to speak life and glorify God. Robert is the author of numerous best-selling books, including The Blessed Life.
---
Related Resources