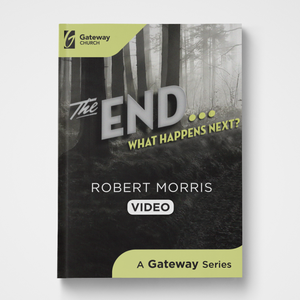 Product Details
Sample Quote
Your eternal destination is chosen by you, not God.
Robert Morris
This DVD is a companion to the The End Study Guide and is designed for group study or individual reflection. 
---
Includes 5 sessions.
What you believe about death and eternity will determine how you live.
The afterlife is mysterious and can often be scary and overwhelming to think about. People have many questions:
• What is heaven like?
• Is there a literal hell?
• Is there a judgment?
• Why would a loving God send people to hell?
Robert Morris provides answers to many common questions about the end times and shares practical wisdom for living in the present.
Robert Morris is the lead senior pastor of Gateway Church in the Dallas/Fort Worth Metroplex. He is passionate about helping people live lives that matter. Robert is the author of numerous best-selling books, including The Blessed Life and Beyond Blessed.
---
Related Resources