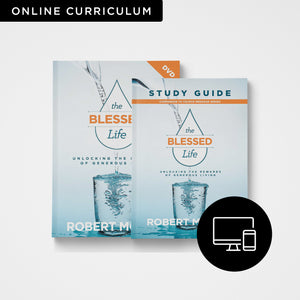 Product Details
We're sorry! This product is no longer available for purchase.

Experience The Blessed Life using our online digital curriculum platform. Receive both the digital videos and study guide in an electronic format.
After completing checkout, click "Go To My Courses" on the order confirmation page. You must have an account with gatewaypublishing.com and be logged in to access your study. If you didn't create an account during checkout, click "Create an Account" in the top right corner of the website. Use the email you used during checkout. Then log in and click "My Online Curriculum" at the bottom of the website to access your purchase.
Includes 6 sessions.
In this series based on Pastor Robert Morris's bestselling book, The Blessed Life: Unlocking the Rewards of Generous Living, you'll be encouraged and challenged to change the way you think about generosity and living a full, blessed life.
Our culture is saturated with false teaching on what it means to be blessed, but what does the Bible say about it?  How can we truly live blessed lives?
See what our Online Curriculum platform looks like:
---
Related Resources