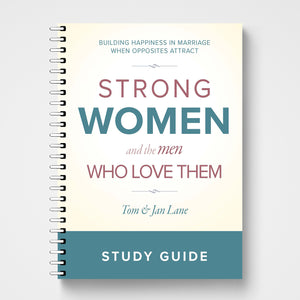 Strong Women and the Men Who Love Them Study Guide
Product Details
Sample Quote
God has a perfect design for marriage. And He desires every marriage to experience health and freedom.
Tom & Jan Lane
This study guide is a companion to the book Strong Women and the Men Who Love Them and is designed for group study or individual reflection.
---
Strong Women and the Men Who Love Them offers practical solutions and enrichment tools for couples with a relational combination of an easygoing husband and an outgoing wife. Using principles and perspectives based in Scripture, couples will learn to appreciate the expression of each person's gifts to benefit the relationship.
Every great marriage faces challenges along the way. How you navigate the circumstances you encounter with your unique personalities determines the health and success of your relationship. For over four decades Tom and Jan Lane have worked together to build a happy, satisfying marriage, and now they share what they have learned.
To live happily ever after is the desire of every couple, and this powerful marriage resource will help you understand the unique qualities of strong, amazing women and the remarkable men who love them.
About the Authors:
Tom and Jan Lane were high school sweethearts and have been married for over 46 years. Together, they have led small groups, counseled couples, and planted churches. Jan has mentored many women who have come through their home and the church. Tom has mentored leaders and helped lead two megachurches over 36 years of vocational ministry. He has authored several books, including Heritage: A Father's Influence to the Generations and Foundations of Healthy Church Government. Tom and Jan have four children and 15 grandchildren.
---
Related Resources