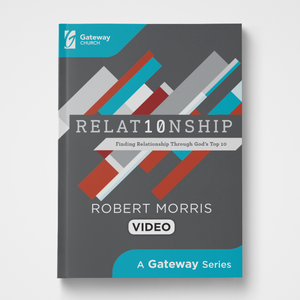 Product Details
Sample Quote
I don't think God was giving us a list of rules. I think He was giving us a list of principles for living.
Robert Morris
This DVD is a companion to the Relat10nship Study Guide and is designed for group study or individual reflection. 
---
Includes 10 sessions.
The Ten Commandments are more than a list of Rules.
God gave us the Ten Commandments as a way to have a deeper relationship with Him. Each commandment contains a principle that allows us to live freely with God and others. These principles include:
Priority
Purity
Humility
Rest
Honor
Love
Intimacy
Trust
Honesty
Contentment
The sessions will help you grow deeper in your relationship with God as you discover His heart behind the Ten Commandments.
Robert Morris is the lead senior pastor of Gateway Church in the Dallas/Fort Worth Metroplex. He is passionate about helping people develop an intimate relationship with God. Robert is the author of numerous best-selling books, including The Blessed Life and Beyond Blessed.
---
Related Resources