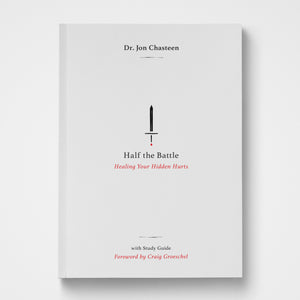 Product Details
Featured Review
Public victories are often the results of winning private battles. My friend Jon Chasteen has written an insightful book emphasizing how the condition of your heart determines the course of your destiny. If you desire to win the war within, then this book is for you! —John Bevere
Where have you put your pain?
Do you ever feel the pressure to hide your struggles in order to look like a "good Christian"? The truth is, we all face battles and hurts in our lives. Scripture is full of God-fearing men and women who tried to cover up their problems. For Mary and Martha, the death of their brother, Lazarus, was the ultimate devastation. They put his body in a dark place and rolled a stone in front of it. But God knew where they buried their pain, and He knows where you bury yours too.
Jon Chasteen explores Old and New Testament examples of people whom God invited to begin the healing process by confronting their secret pain. Through this book with an included study guide, you will learn to:
• Acknowledge the struggles you've been avoiding
• Let go of shame and regret
• Partner with God in your healing
• Find freedom and lasting peace
God wants to visit the place of your pain, redeem your past, and set you free. Will you let Him?

---
Related Resources