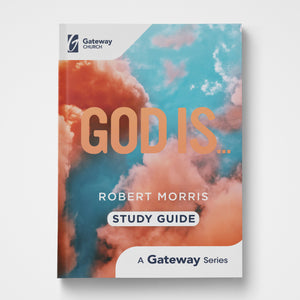 Product Details
This study guide is a companion to the God Is... DVD and is designed for group study or individual reflection. 
---
Includes 5 sessions.
Does it really matter what you believe about God?
It's important to have a healthy view of God—one that is based not on your feelings or opinions. Your beliefs about God influence how you live, how you view yourself and others, and even how you respond to life's trials. Your understanding about God also affects your relationship with Him and should be based on the truth of the Bible.
In this five-part study designed for group experience or individual reflection, Pastor Robert Morris offers a fresh perspective on God the Father's character and heart. You will be encouraged as you learn:

How believing in the goodness of God helps you enjoy life
How God is fully merciful and fully just at the same time
How God is faithful and worthy of your trust
How God's grace is unmerited, unearned, and unlimited
How God wants to partner with you in His plan for your life
Your heavenly Father never changes. He loves you more than you'll ever know!
ROBERT MORRIS is the senior pastor of Gateway Church in the Dallas/Fort Worth Metroplex. He desires for everyone to find strength and joy in their relationship with Christ. Robert is the author of numerous best-selling books, including The Blessed Life.

---
Related Resources