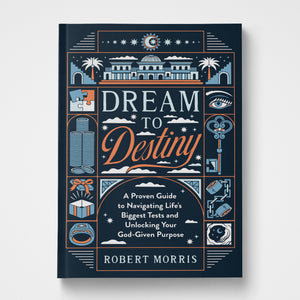 Product Details
Have you given up on your dreams?
Have the realities of life gotten in the way of your destiny?
Pastor and bestselling author Robert Morris shares exactly how to navigate the journey from your dreams to your destiny. Using the biblical story of Joseph, he explains how Joseph had a God-given dream, but he didn't reach his destiny overnight. Over a period of thirteen years, God took Joseph through ten character-building tests that prepared him for his extraordinary future—tests you also need to pass to reach your destiny.
Filled with biblical truths, personal stories, and practical application, Dream to Destiny equips you to successfully:

Navigate ten character-building tests.
Persevere through waiting and uncertainty.
Identify your gifts and talents.
Discover the purpose behind your dreams.
Fulfill your God-given destiny.
This newly revised and expanded edition is full of profound insight and hope. No matter where you are in life, you have a meaningful and bright future ahead—beyond what you could ever imagine!
Why settle for a dream when you can have the destiny?
Robert Morris is the senior pastor of Gateway Church, a multicampus church based in Dallas–Fort Worth, Texas. He is the best-selling author of numerous books, including The Blessed Life, Frequency, Beyond Blessed, and The God I Never Knew. Robert and his wife, Debbie, are blessed with one married daughter, two married sons, and nine grandchildren.
---
Related Resources