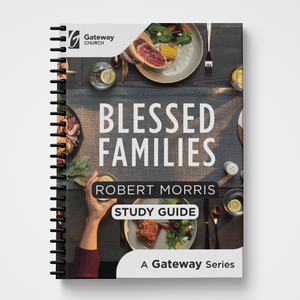 Blessed Families Study Guide
Product Details
Sample Quote
You can never do anything that would cause God not to love you.
Robert Morris
This study guide is a companion to the Blessed Families DVD and is designed for group study or individual reflection. 
---
Includes 5 sessions and a leader's guide.
What is the secret to having a truly happy home life?
Every person comes from a broken family. The spiritual genetic tendencies from Adam and Eve have been passed down to us through the curse of the fall. But Jesus came to redeem us from the curse! Through Him, every family can find redemption and discover that:
• Marriage represents God on earth.
• Believers are adopted into God's family.
• Parenting requires training, teaching, and trust.
In this series, you will learn about God's design for families and how they can move from broken to blessed.
Robert Morris is the lead senior pastor of Gateway Church in the Dallas/Fort Worth Metroplex. He desires to see families eternally changed through the power of God's love. Robert is the author of numerous best-selling books, including The Blessed Life and Beyond Blessed.
---
Related Resources