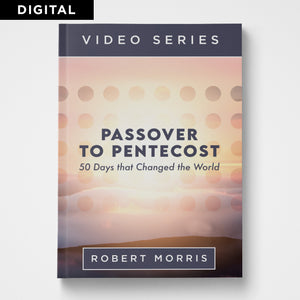 Passover to Pentecost Video Series (Digital)
Product Details
Purchasing this product will allow you to stream or download the sessions. (Not a physical product). 
__________________________
THE RESURRECTION WAS JUST THE BEGINNING.
Jesus died on the cross and rose again three days later, but what happened next? Many people don't think about the events that transpired between Jesus' death on Passover and the Holy Spirit's arrival on Pentecost. But those 50 days were filled with miracles and revelation for believers across the ages!
Join Pastor Robert in this series as he walks through the Scriptures and explains the significance of Passover, Pentecost, and the days in between. You will learn:
The benefits of the Resurrection
The keys to strengthening your faith
The perfect timing of God's promises
The life-giving gift of the Holy Spirit
And more!
This video series is a companion to the study guide and is designed for individual and group study. 

Jesus' story doesn't end with the Resurrection. Discover the 50 days that changed the world!
Robert Morris is the senior pastor of Gateway Church in Dallas-Fort Worth, Texas. He is passionate about leading people to Jesus through the power of the Holy Spirit. Pastor Robert is the bestselling author of numerous books, including The Blessed Life, Frequency, Beyond Blessed, and Take the Day Off.
---
Related Resources