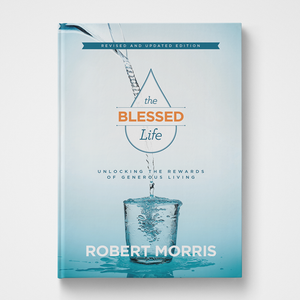 Product Details
Featured Review
This book challenged the way I view money, the way I use money, and the way I trust God. In any discussion about finances and spirituality, this book deserves a place at the table.
Max Lucado
Unlocking the Rewards of Generous Living
In this new, revised edition of The Blessed Life—featuring fresh stories and illustrations, —Robert Morris, lead senior pastor of Gateway Church, examines the true meaning of the blessed life.
---
The enemy wants to keep you from discovering God's principles governing financial stewardship, giving, and blessing. Why? Because once you do, it will change every area of your life from your marriage to your health and finances. It will also impact the kingdom of God. What if every needed church facility could be built? What if every missionary could be sent and abundantly supplied? What if the gospel could saturate every culture on the planet? When God changes your heart from selfishness to generosity, every part of your life journey is affected. With humor, passion, and clarity, Robert presents this truth on the pages of The Blessed Life.
About the Author:
Robert Morris is the lead senior pastor of Gateway Church, a multicampus church in the Dallas/Fort Worth Metroplex. Since it began in 2000, the church has grown to more than 39,000 active members. His television program is aired in over 190 countries, and his radio feature, Worship & the Word with Pastor Robert, airs on radio stations across America. He serves as chancellor of The King's University and is the bestselling author of numerous books, including The Blessed Life, The God I Never Knew, Truly Free, and Frequency. Robert and his wife, Debbie, have been married 38 years and are blessed with one married daughter, two married sons, and nine grandchildren.
---
Related Resources