Give the gift of growth and encouragement. What better way to do that than with books, worship, (or a special Bible)? We put together 4 different gift guides to help navigate your way in finding the perfect read for everyone on your Christmas list! Click the title in purple to learn more.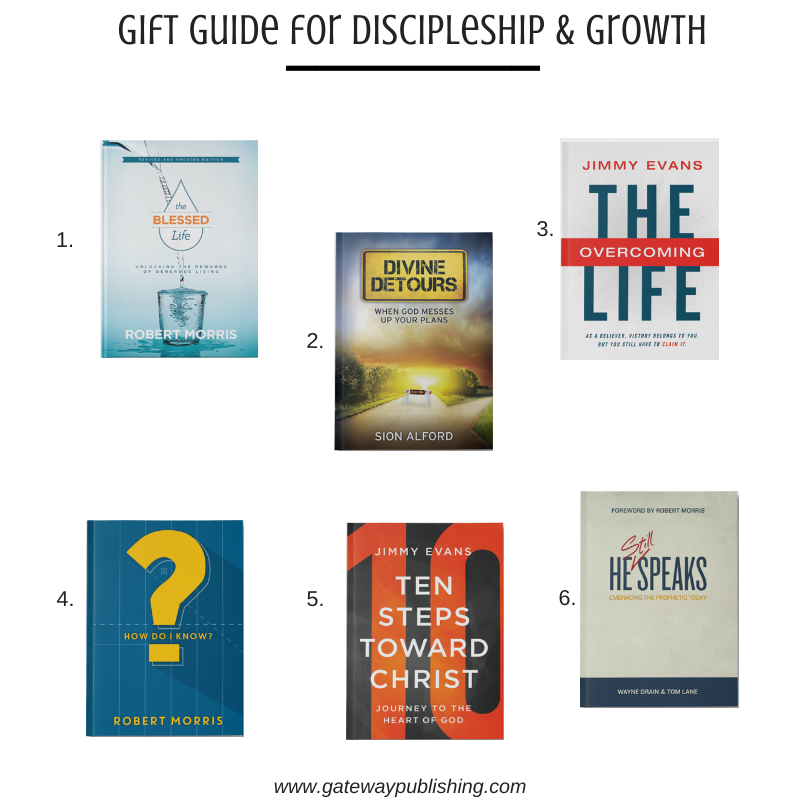 1. The Blessed Life by Robert Morris: When God changes your heart from selfishness to generosity, every part of your life journey is affected. With humor, passion, and clarity, Pastor Robert presents this truth on the pages of The Blessed Life.
2. Divine Detours by Sion Alford: Just as the cross wasn't the end for our Savior, the death of your dream isn't the end for you. The death of your dream opens the doorway to something better, more real, and more life-giving.
3. The Overcoming Life by Jimmy Evans: Learn how to overcome rejection, fear, comparison, shame, unforgiveness, discouragement, sickness, and doubt. Understand the secrets to overcoming every attack of the enemy
4. How Do I Know? by Robert Morris: Do you want to learn more about the reality of God? The truth of the Bible? The person of Jesus? Pastor Robert Morris will help you find the answers you're seeking.
5. Ten Steps Towards Christ by Jimmy Evans: Salvation isn't the last step. It's the first. So what's next? Jimmy Evans gives you a map to navigate your new life. How to connect with God, see the Bible as relevant. understand church customs, and find freedom from past hurts.
6. He Still Speaks by Wayne Drain & Tom Lane: Drain & Lane lay a solid biblical foundation for the role of prophecy in the church today. Using scripture and stories, they systematically deal with questions and objections and show why we should all embrace prophetic ministry.

Not Pictured:
I Changed My Mind by Jimmy Evans: God shows us in His Word a better way to think. Are you willing to trust Him with your thoughts? Next to salvation, changing your thinking may have the single greatest impact on your life. Change your mind. Change your life.

From Dream to Destiny by Robert Morris: Each of us is given a dream by God. Unfortunately, most people never see their dream come to pass, so they never fulfill the destiny that God has in store for them. Using the example of Joseph in the Old Testament, Robert Morris tells readers exactly how to make their dream into the reality for which they long.

Legacy Song by Olen Griffing: In Legacy Song, people will find a road-map to leaving a lasting eternal legacy. A person's legacy can be measured as timeless parts of themselves being passed on to others—leaving hope for the future.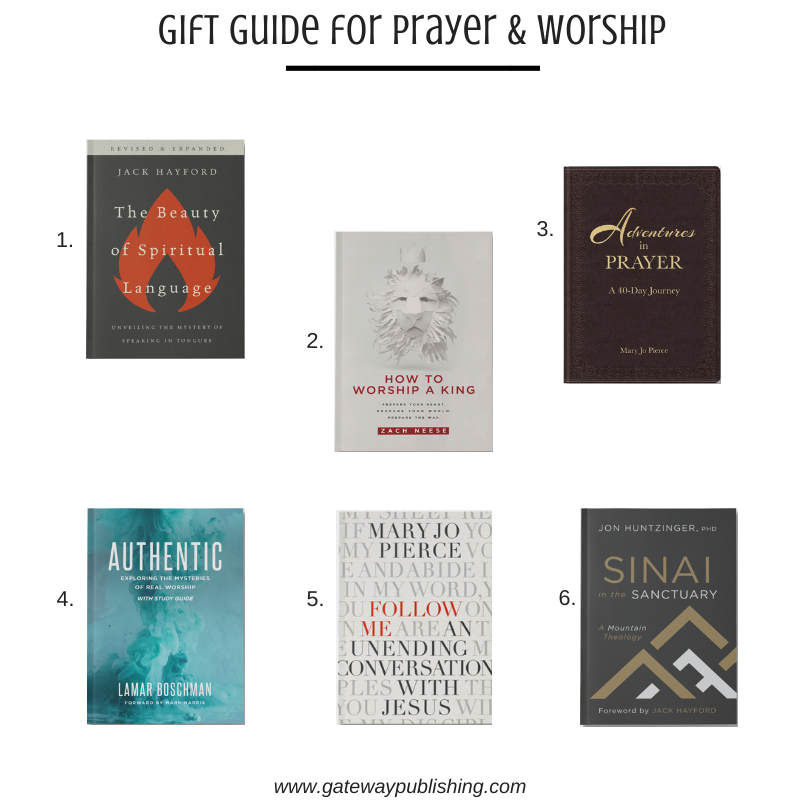 1. The Beauty of Spiritual Language by Jack Hayford: Pastor Jack makes a persuasive case for accepting tongues as a normal part of a Christian's experience. This revised and expanded edition includes 14 never-before published lessons from Pastor Jack.
2. How to Worship a King by Zach Neese: Embark on this amazing journey of understanding, and be changed by the revelation gained as you allow your mind to see what only your heart has had the capacity to understand: that the power of worship has been deliberately given to change your relationship with God.
3. Adventures in Prayer by Mary Jo Pierce: Praying isn't just talking—it's also listening, watching, and expecting. Each day of this devotional has a simple but inspiring personal story. Elements of Mary Jo's journey, character, and anointing will transform your prayer life. 
4. Authentic by Lamar Boschman: Do you long to express your deep affection and adoration for God? Are you surprised by the passionate emotions that accompany your worship? As you find fresh expressions of worship, you will discover that its beauty and depth are unending.
5. Follow Me by Mary Jo Pierce: Mary Jo Pierce takes a journey through the book of John. Pages with colorful ink illustrate the dialogue she had with Jesus through this experience and will inspire you to start your own conversation.
6. Sinai in the Sanctuary by Jon Huntzinger: Experience the presence of God like Moses did on Mt. Sinai. Jon Huntzinger traces the biblical and theological thread of God's encounters with His people.
Not Pictured
Majesty by Jack Hayford: Pastor Jack shows us the blessings of praise and how God's grace fills everything He gives and calls us to do. When your worship enthrones His majesty, His grace will flood you with spiritual enrichment.
A New Color fo Christmas by Jon Huntzinger: Orange represents change, and the first Christmas was filled with change. This Advent devotional will take you back to the first Christmas to explore how a baby in Bethlehem altered the course of history.
Unwrapped by Cassie Reid: The holidays are the most wonderful time of the year, unless you are tangled in family drama. Dr. Cassie Reid shares 25 secrets to navigating the holidays with grace and composure, no matter what your family may be like.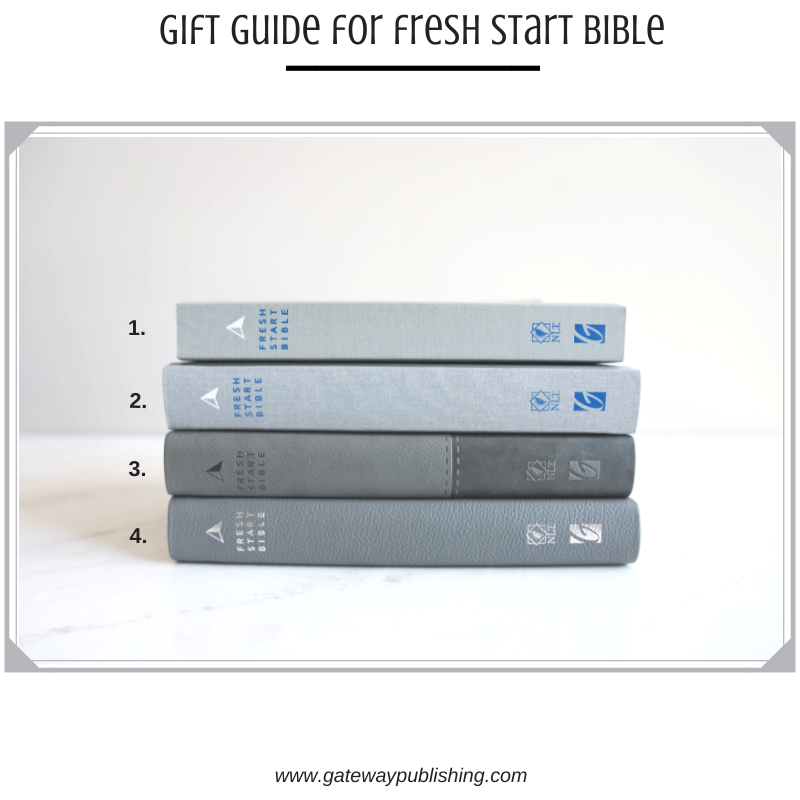 Everyone needs help navigating their way through life. Pastors Robert Morris, Jimmy Evans, Jack Hayford, and other key leaders answer common questions and provide the tools for building a strong spiritual foundation. With over 500 discipleship articles and studies, Fresh Start Bible will help you find God's direction for every day.
1. Fresh Start Bible Softcover Edition
2. Fresh Start Bible Hardcover Edition
3. Fresh Start Bible Deluxe Edition
4. Fresh Start Bible Premium Edition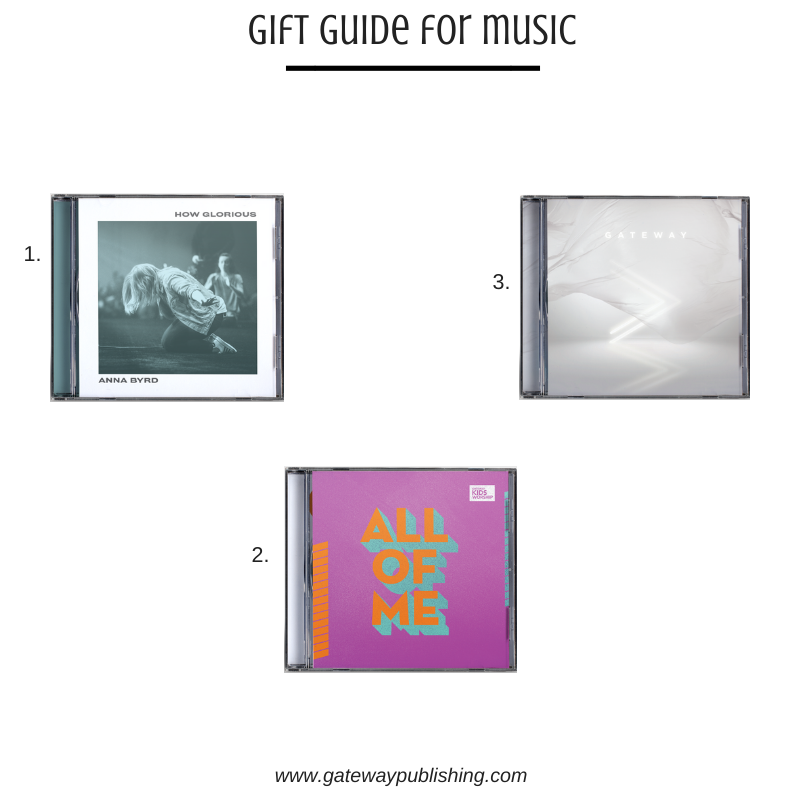 1. How Glorious by Anna Byrd: A compilation album from Gateway worship leader Anna Byrd, featuring remastered tracks and a new acoustic version of "Wilderness".
2. All of Me by Gateway Kids Worship: All of Me includes songs that will have the whole family singing and dancing. Included with the CD is a DVD of six dance videos and six lyric videos.
3. Greater Than By Gateway Worship: Gateway's live album, Greater Than, captures a move of God's power, presence, and Spirit through a special night of worship at Gateway Church in Southlake, Texas.
Merry Christmas from all of us at Gateway Publishing!
---
Share this post
---
---